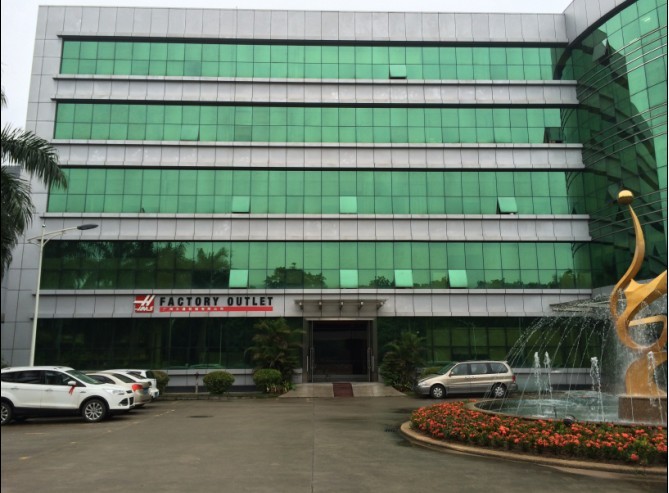 美国哈斯数控机床荣誉代理商—广州大通机械有限公司
广州大通机械有限公司(简称"大通")于1994年创立于香港,起初以经营欧美日高档机床及生产线为主,2003年起,大通放弃了众多国际品牌的代理权,现专门经营美国哈斯(HAAS)数控机床,业务蒸蒸日上。经多年的苦心经营, HAAS无论在产品质量、性能、价格、服务、配件、品牌、系统管理、企业文化都做得丝丝入扣,抓住客户的心,同行无人能望其项背,现今为止,哈斯机床已在中国大陆销售超过15000台。
大通旗下拥有七家HFO,客户遍及祖国的大江南北,分布在汽车、摩托车、船舶、机械、模具、压铸、航空航天、电子通讯、电器、缝纫机、五金、卫浴、电梯、学校、研究所等各行各业,累计客户2000多家,年营业额达6亿人民币,是家初具规模的集团公司,多年获得哈斯颁发的销售奖项——钻石级俱乐部奖。
大通每家HFO占地面积均超过1,000平方米,设有现代化高标准展厅、井井有条的大型备件库、配置多台美国原装教学控制器的哈斯技术培训中心、试加工中心、交钥匙工程车间、多辆维修专用车,还有整洁宽阔的办公区域。为用户提供从选型、制作工艺方案、试加工、培训、安装调试、维修、维护保养等售前、售中、售后的一站式服务。
我们相信以自己的勤奋和努力,携手哈斯,将以优质的服务和踏实的质量赢得客户的信任和行业的认可。
公司下一个里程碑,10亿营业额,让我们共同奋斗。
公司20年的发展中,历经种种挫折、各项艰险,但却日益壮大,这得益于集团坚强的领导与全体员工的团结奋斗,得益于广大客户长期的支持,得益于哈斯的品牌与体系,也得益于我们长期坚持的良好的企业文化。
公司拥有管理、技术、营销各类中高级人才180余人。大通一直信奉"家"的文化,倡导员工要孝顺父母,亲爱家人,关怀同事,关注社会弱势群体。每个员工在入职后公司会安排一周的脱产带薪培训,参加以《弟子规》为基础的《幸福人生讲座》,同时组织同事们参加社会公益慈善活动,旨在让员工真正感受:快乐工作,精彩生活。 
Thehonoraryagent for Haas Automation CNC machine tools – Tai Tong Machinery Co.,Ltd.
Tai Tong Machinery Co., Ltd. (TaiTong),founded in Hong Kong in 1994, was initially engaged in the high-endmachine toolsand production line from Europe and Japan. Since 2003, Tai Tonggave up the agencypower for many international brands and specialized inrunning CNC machinetools business with Haas Automation Inc (Haas), and thebusiness was thrivingday by day. After years of painstaking efforts, Haas doesa very rigorous anddetailed work in every aspect, such as product quality,performance, price,service, accessories, brand, system management and corporateculture, and washighly praised by its customers, making its competitors farbehind. At present,Haas has sold more than 15,000 machine tools in Chinamainland.
Tai Tong has sevenHFOs and itscustomers are all over China, covering various industries andfields, such asautomotive, motorcycle, ship, machinery, tooling, die-casting,aerospace,telecommunication,
electrical appliance, sewingmachine, hardware,sanitary ware, elevator, school, research institute andothers, which are morethan 2,000 customers in total. Tai Tong is becoming agroup company with acertain scale, and has achieved the annual revenue of 600million Yuan.Besides, Tai Tong has won a sales award from Haas, the DiamondClub Award foryears.
Each HFO of Tai Tong occupiesmorethan 1,000 square meters and has modern high standard exhibition, organizedlargespare parts storage, Haas technical training center equipped with multipleoriginalUS control simulators, test processing center, turnkey operationworkshop,multiple service cars, as well as the clean and broad office area. HFOis ableto provide one-stop services of pre-sale, in-sale, and after-sale inmachine typeselection, craftsmanship plan, test processing, training,installation, repair,maintenance, and so on.
We believe that, with ourhardwork and efforts, with our excellent service and solid quality, andbycooperating with Haas, we will surely win the customers' trust and industry'srecognition.
The next milestone of thecompanyshall be 1 billion Yuan's turnover, so let us struggle together.
During the past 20 years'development,the company has experienced many kinds of setbacks and dangers, butstillsteadily grows. This is benefited not only from the strong groupleadership andthe unity and struggle of our staffs, the long-term support ofour customers, butalso the brand and system of Haas, and our long-standing goodcorporateculture.
Thecompany has got over 300 employees with talents of management, technical, salesand marketing etc. "HOME",theculture which Tai Tong always believe in .It promotes staff should filial pietytoward our parents, love our families, care about our colleagues and payattention to social vulnerable groups. After the induction, the company willorganize a week-long off the job training with salary .We will attend the HappyLife Lecture, which based on the Disciple Gauge. In the meantime, the companywill organize the colleagues to participate in Social charity activities so asto let the staff truly experience the state of woking happily and having awonderful life.
The company have been well following it Philosophy On Personnel as "Respectingtalents, cultivate Talents, combine ability with integrity, give full scope tothe talents." We provide competitive salary packages, good promotion path andgreat growing room. To meet the demands of rapid expansion, we warmly welcomeall kinds of talents to join us. We provide you with:
1、Workingtime :Offersall kind of paid holidays according to law.
2、Compensation:Competitive basic salary and rises once a year. Double salary at year ,highincentive policy for sales team.
3、Socialinsurance and housing fund: Fully follow the government policies
4、SpecialWelfare:
a)ExtraCNY holidays and paid holidays.
b)Lunchsubsidy, Call subsidy.
c)Parent thanksgiving fund, Kid Loving Fund, Staff Emergency Fund, consolation money.
d)Physicalcheck subsidy.